I was born and raised in Albuquerque and completed medical school at the University of New Mexico. I moved to Orlando in 1997 to start my Internal Medicine/Pediatrics residency.
Ben's family is originally from Guyana. He was born and raised in Maryland and went to medical school at Howard University. He came to Orlando in 1998 for his residency in Internal Medicine. It is during our residency that Ben and I met. While we will both admit that it was definitely not love at first site, we quickly became friends. Over the next three years that friendship grew into the love that we share today.
We were both initially with other people, but we soon knew that we had to be together. In our third year of residency, we were chief residents together and were inseparable. In April 2001 we moved in together and the transition was so easy it comfirmed what we already knew. Only 2 months later, in June, prior to our graduation from residency, we were signing papers to begin building a beautiful home together. In December 2001, we moved into our new home and in April 2002 Ben proposed at Arthur's 27, a restaurant atop the Wyndam Hotel. We arrived at the table and I was startled to see a beautiful arrangement of a dozen long stem red roses. Half way through our four course meal, the waiter brought a plate covered with a silver dome and placed it in front of me. I presumed it was my entree but when he removed the silver cover I saw on the plate a stunning three-stone diamond engagement ring surrounded by fresh flowers and the words "Will you marry me?" written in chocolate. Of course he got down on one knee and asked me to marry him - and of course I accepted. Immediately after, we watched the Disney fireworks from our window. Ben had made such efforts to plan everything out and the waiters had helped to time everything perfectly!



Visit Our Photo Albums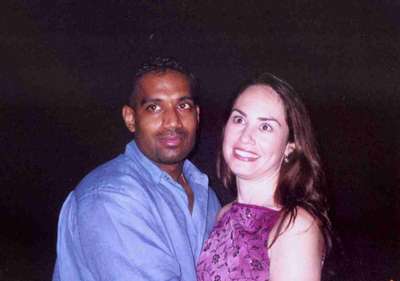 Our Story Album