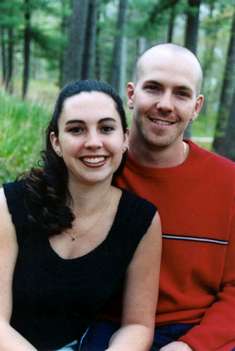 Nate Howell and Kimberly Perry
September 20, 2003





Welcome to our wedding website!

Aug 2002
We are so excited about our upcoming wedding! We hope that you enjoy our wedding website. We had a lot of fun creating our website together and hope you have fun viewing it!

May 27 2003

Wow...time is sure flying by. Things are starting to get very busy for us. Of course, it's all fun, just a little stressful sometimes. We can't wait to see all of you. Thank you for being so loving and supportive of our wedding. Nate and I are just getting so excited!! We can't wait for the BIG day!!

July 31 2003

With a little over one month left, I decided to put a new message on our website. We FINALLY have everything prepared for the wedding. Unfortunately, there is nothing else we can do until about 2 weeks before the wedding. We are having so much fun with this whole experience. It has been stressful at times, but it truely has been THE best experience of my life. I just can't wait until Nate and I are finally husband and wife. We can't wait to see all of your wonderful faces. We are so excited that you are able to spend our special day with us. Thank you again for your love and support.



View Guestbook!



Please sign our Guestbook
We want to hear from you.